Progress your career in aquaculture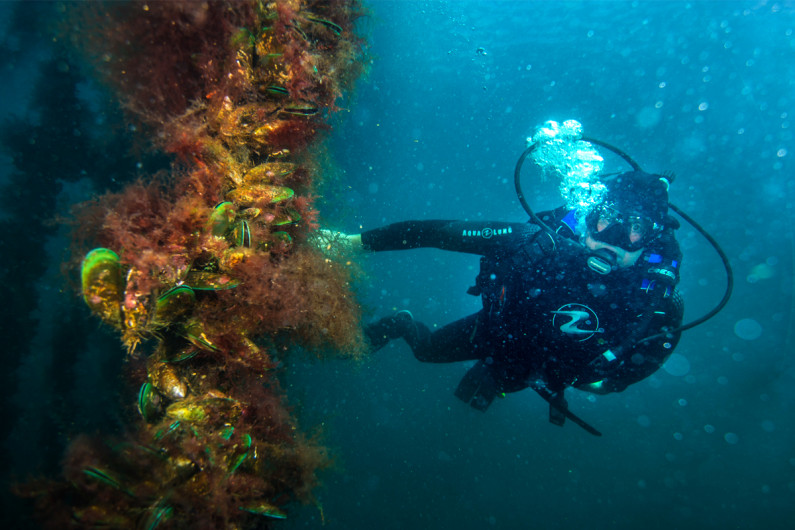 Find out about career possibilities and pathways in the aquaculture industry.
What's on this page?
Aquaculture is underwater farming of aquatic plants and animals.
New Zealand's aquaculture sector offers jobs in a range of areas, including farming, processing, science, engineering and technology.
Farming
Aquaculture farmers breed, raise and harvest fish, shellfish and other aquatic life in marine farms to sell as food and other products.
They may carry out a range of tasks, such as diving, maintenance or harvesting, or they may employ workers for particular roles.
There are no specific requirements to become an aquaculture farmer. However, an aquaculture qualification, such as a National Certificate in Aquaculture, may be useful.
A diving qualification is also required on some farms.
To progress into managerial roles, a Diploma in Aquaculture (Fish Farming and Fishery Management) can be useful.
Aquaculture farmers usually earn $39,000 to $80,000 a year.
Processing
Seafood process workers prepare, check, grade and pack seafood harvests.
There are no specific entry requirements to become a seafood process worker as you gain skills on the job. However, you usually need to pass medical, drug, and literacy and numeracy tests.
You can start in entry-level roles, such as cold-store general hand or factory hand, and progress into technical or supervisor roles with experience.  
Processing is the largest area of work in the aquaculture sector, and job opportunities are good due to high staff turnover.
Meat/seafood process workers usually earn $39,000 to $86,000 a year.
Science, engineering and technology
Scientists, engineers and technologists who work in aquaculture have different responsibilities and require various skills.
Scientists carry out research or conduct experiments on aquatic plants and animals in aquaculture farms to improve harvests and control disease.
Engineers design, build and maintain aquaculture farms and water systems.
Food technologists develop marketable aquaculture products such as smoked salmon or packaged mussels and oysters.
Most roles require a degree, such as a Bachelor of Science, Engineering or Technology. For example, food technologists usually need a Bachelor of Science (Food Science) or similar degree. You can earn more and progress to senior or management roles with experience.
Find out more
Sources
Aquaculture NZ website, accessed March 2020, (www.aquaculture.org.nz).
Bohny, S, 'Scientists Excited by Open Ocean's Potential for Aquaculture Industry', 12 July 2019, (www.stuff.co.nz).
O'Connor, D, and Nash, S, 'Primary Industries in Good Shape to Respond to Drought and COVID-19', 12 March 2020, (www.beehive.govt.nz).
Nash, S, 'Government Delivers Plan for World-leading Aquaculture Industry', 18 September 2018, (www.beehive.govt.nz).