Roofer
Kaihanga Tuanui
Roofers repair or install roofs using materials such as roofing iron, tiles and shingles.
Pay
Roofers with up to three years' experience usually earn
Experienced roofers or supervisors usually earn
Source: Roofing Association of New Zealand, 2016.
Job opportunities
Chances of getting a job as a roofer are good due to a shortage of workers.
Pay
Pay for roofers varies depending on experience, qualifications and location.
Apprentice roofers usually start on the training minimum wage, but earn more as they gain experience.
Unqualified roofers with one to three years' experience usually earn between minimum wage and $20 an hour.
Qualified roofers with one to three years' experience usually earn between $18 and $25 an hour.
Experienced roofers or supervisors usually earn $30 to $40 an hour.
Source: Roofing Association of New Zealand, Careers New Zealand interview, 2016.
(This information is a guide only. Find out more about the sources of our pay information)
What you will do
Roofers may do some or all of the following:
select and estimate the amount of materials to be used
measure roofs
erect scaffolding and rig safety equipment
remove old or damaged iron, tiles or other materials from roofs
do minor repairs to the structure of roofs
cut roofing materials to size and attach roofing and cladding to buildings
install spouting, downpipes and flashing.
Roofers who run their own business may also prepare quotes and invoices for clients.
Skills and knowledge
Roofers need to have:
knowledge of roof construction and repair
knowledge of different roofing materials such as tiles, corrugated iron and butyl rubber (roofing rubber)
the ability to read and interpret building plans
understanding of the New Zealand Building Code and relevant roofing codes of practice
knowledge of health and safety regulations, including the proper use of safety equipment.
Self-employed roofers also need small business skills.
Working conditions
Roofers:
usually work regular hours, but may sometimes work for extended hours and on weekends
work on houses and buildings that are being built, repaired or altered
work at heights and outside, except when conditions are too dangerous because of rain, wind or snow
travel locally to jobs.
What's the job really like?
Scott Kreyl has been roofing for more than 23 years, and he and his partner run a business that employs two teams of roofing contractors.
What attracted you to roofing?
"I liked the look of roofing because it's an outside job and you can be your own boss from quite early on.
"It was also about the lifestyle – I used to surf a lot and it was a job that gave me time off to surf. You'd be given an address and you'd basically get in, work hard, get it done and then take off for a couple of days. Unfortunately, now that I'm running a business, I don't get so many opportunities to surf."
What sort of person makes a good roofer?
"You need to be quite spatially aware, have good balance and be fit and strong.
"You also have to be okay working at heights, although I once took a manager on a job who was terrified of heights but basically overcame it by getting up there and doing it. He actually works as a roofer now."
Sam talks about life as a roofer - 1.20 mins. (Video courtesy of Got a Trade? Got it Made!)
I enjoy roofing because I am never in the same place. I move around Auckland, I meet a whole lot of different people, I see a whole lot of different places. It's a lot of fun on site, we enjoy ourselves, we're outside in the sun, so it's good.

Your apprenticeship can take anywhere from a year to two years. It's probably the best decision I made going for qualification. It's opened a lot more doors for me. After getting qualified I've set up my own business and that's been running for about eight months now and has done really well. My lifestyle has gotten a lot better because of roofing, I make real good money.

I think the type of person that makes a good roofer would be someone that really enjoys the outdoors, I guess they love physical work, love being practical, gotta love heights! Hopefully you love heights.

The demand out there for roofers now is huge. A lot of guys are looking for young roofers to start apprenticeships. I'd say to a guy wanting to become a roofer to go for it. It's taken me places, I have enjoyed being an apprentice and I have also enjoyed being qualified now with my own business, so yeah, go for it.

My name is Sam, I'm 28 and I've got it made.
Entry requirements
There are no specific entry requirements to become a roofer, as you gain skills on the job. However, employers often prefer to employ someone with a qualification or is willing to become qualified.
To become a qualified roofer you need to complete an apprenticeship and gain a National Certificate in Roofing – Installer (Level 4).
The industry training organisation The Skills Organisation oversees roofing apprenticeships. MasterLink employs and supports roofing apprentices. 
Secondary education
No specific secondary education is required for this job, but design and visual communication, technology and maths to at least NCEA Level 2 are useful.  
Year 11 and 12 students can learn more about the construction industry, and gain relevant skills, by doing a National Certificate in Building, Construction and Allied Trades (Level 1 and 2) through the BConstructive programme.
For Year 11 to 13 students, the Gateway programme is a good way to gain industry experience.
These programmes may help you gain an apprenticeship, but do not reduce the amount of time it takes to complete it.
Personal requirements
Roofers need to be:
safety-conscious
comfortable with heights
quick and efficient, with an eye for detail
able to follow instructions
able to work well as part of a team
good at basic maths
organised.
"You need to be comfortable working up high on slopes, and having good balance is a big part of it."
Useful experience
Useful experience for roofers includes any work in the building and construction industry, especially plumbing and carpentry. 
Physical requirements
Roofers need to have:
excellent fitness and health and must be strong as they lift a lot of heavy building materials
good hand-eye co-ordination 
a good sense of balance.
Registration
Some roofing work has to be carried out or overseen by a Licensed Building Practitioner. 
Find out more about training
The Skills Organisation

0508 754 557 - support@skills.org.nz - www.skills.org.nz

Roofing Association of NZ

(09) 415 0278 - info@roofingassn.org.nz - www.roofingassn.org.nz
Check out related courses
What are the chances of getting a job?
Opportunities for roofers are good due to:
a construction boom that is predicted to last until 2021, meaning more building work
the extra 22,000 houses that are needed over the next 10 years in Auckland
building work needed to upgrade leaky homes and earthquake-prone buildings
the Christchurch rebuild, which is predicted to extend until at least the end of 2017.
Roofer (roof tiler) is included on Immigration New Zealand's immediate skill shortage list. It is also on the construction and infrastructure skill shortage list, which contains occupations in critical shortage in construction across New Zealand.
 This means the Government is actively encouraging skilled roof tilers from overseas to work in New Zealand.
However, like many building jobs, this role can be affected by economic conditions. A downturn in the economy can lower demand for roofers.
Specialist roofing companies main employers
Most roofers are employed by specialist roofing companies. According to the Roofing Association of New Zealand:
40% of roofing companies are small businesses with between two and five staff
45% employ between six and 15 staff
15% employ 16 or more staff.
Sources
Immigration New Zealand, 'Construction and Infrastructure Skill Shortage List', accessed January 2019, (www.immigration.govt.nz).
Immigration New Zealand, 'Immediate Skill Shortage List', accessed January 2019, (www.immigration.govt.nz).
McClintock, J, operations manager, Certified Builders Association, Careers New Zealand interview, June, 2016.
Ministry of Business, Innovation and Employment, '2006-2014 Occupation Data' (prepared for Careers New Zealand), 2015.
Moor, G, chief executive officer, Roofing Association New Zealand, Careers New Zealand interview, August 2016.
(This information is a guide only. Find out more about the sources of our job opportunities information)
Progression and specialisations
Experienced roofers may progress to set up their own business.
Roofers often specialise in either residential or commercial roofing, or a particular kind of roofing material, such as:
tiles
shingles
roofing iron.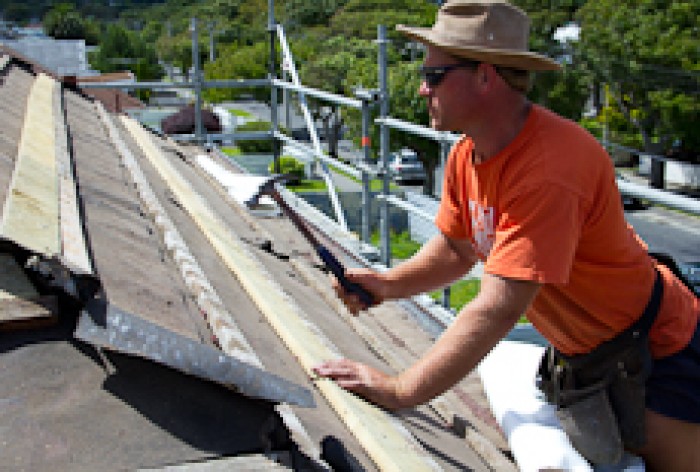 Last updated 22 January 2019